Aha!Boxes
The Herschel!Box
The experimental setup of Wilhelm Herschel's original experiment is not very complicated. But you have to be very careful and need good materials to get a clear result: several accurate thermometers and a good glass prism are necessary to measure the different temperatures of the spectral colors and especially in the infrared range.
Nevertheless, we want to make it possible for children to explore and understand infrared radiation using simple materials. The Herschel!Box was developed for this purpose. This experimental box with appealing illustrations and simple texts is intended for use in school classes and for independent research of children. The Herschel!Box will most likely be available starting with the end of April 2019.
More information about the Herschel!Box and other Aha!Boxes can be found at https://ahaboxes.org
Contents of the Herschel!Box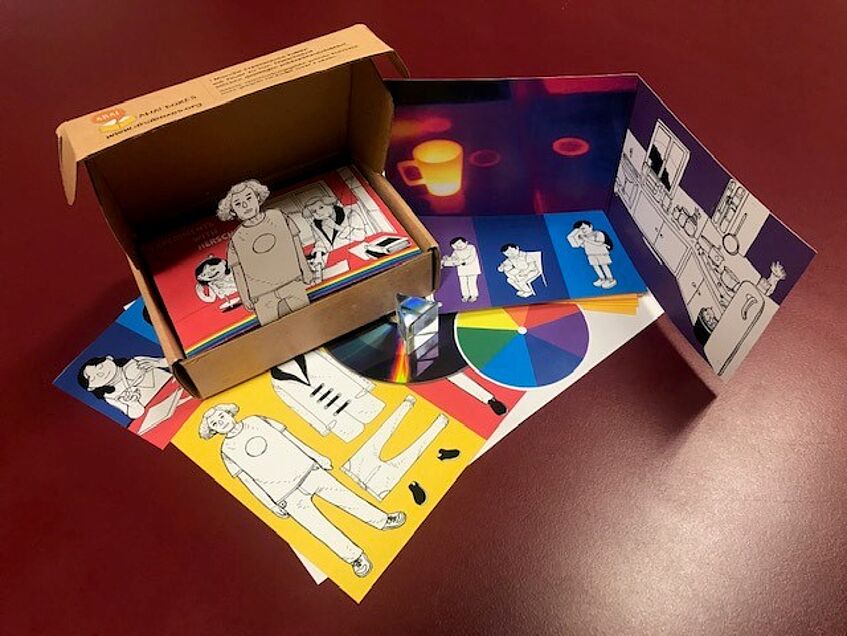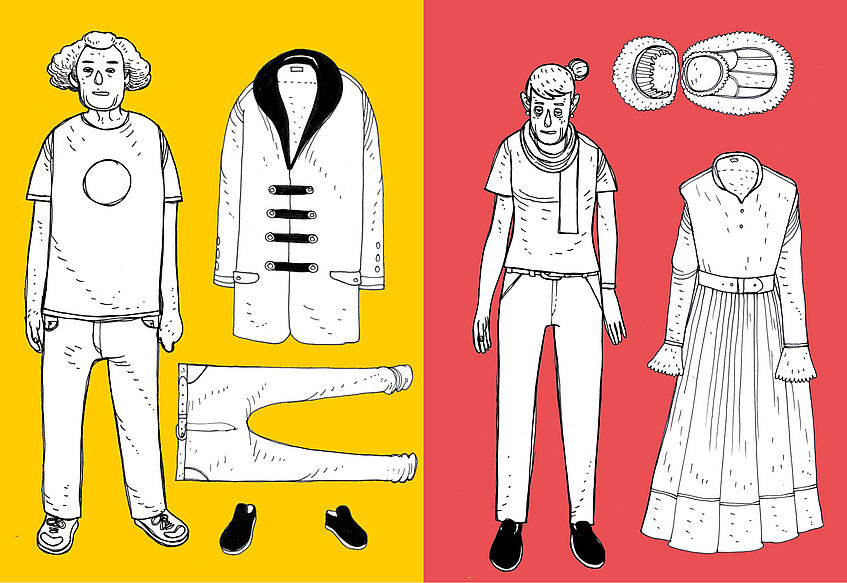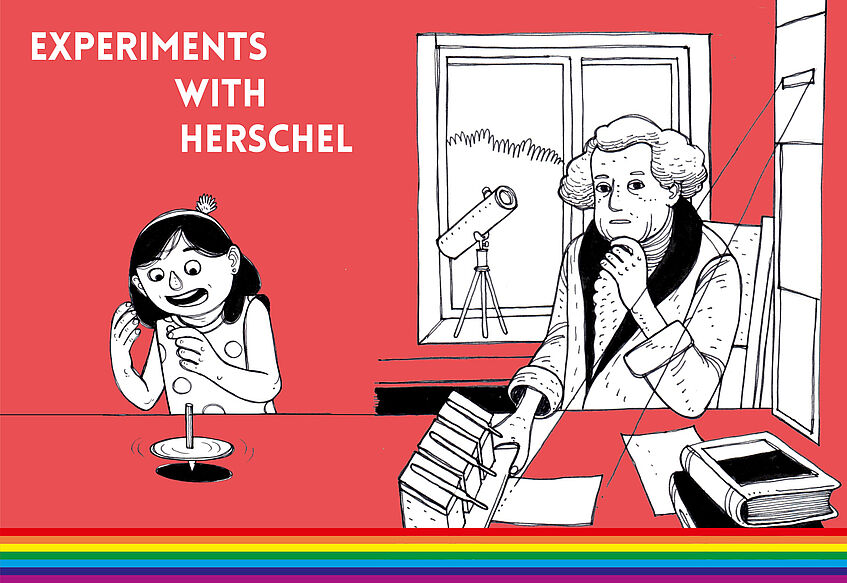 Contents of the Herschel!Box
Various experiments and activities introduce the subject of infrared and additionally you can also learn about the Herschel siblings as researchers:
The Mini Theatre
Three one-minute pieces convey the story of the life of Caroline and William Herschel. They tell important things about their origins and their research activities. The mini-pieces can also be performed with small dress-up figures by Caroline and William - each in a modern version as researchers of today and with historical robes.
The Herschel experiment
Each Herschel!Box contains a small prism made of acrylic glass. By exploring the effects of different light sources in connection with the prism, a first playful approach to the topic of optics and spectral colors is created. This activity is complemented by a "Herschel experiment wheel" on which different color combinations can be compared with the spectrum generated by the prism. In this simple way, the original experiment of the Herschel siblings can be reproduced in an easy manner.
The Color Top
Even before the Herschel siblings, Sir Issac Newton discovered that white light consists of seven basic colors: violet, indigo, blue, green, yellow, orange and red. By playing with a color top, the different components of the light become recognizable again. In the rapid movement of the color top, the seven colors blur and merge into a uniform white or greyish-white hue.
The CD Spectrometer
While in the spinning top different colors merge into a uniform white basic tone through additive color mixing, here the light is again broken down into its individual parts. A simple spectrometer made of paper and a shard of an old CD makes this trick possible. The narrow circular paths on a CD become a simple diffraction grating, which deflects the electromagnetic radiation of the reflected light to different positions. Each color reflects differently and can be clearly visible.
The Infrared Coloring Book
With an infrared or a thermal imaging camera the differences in temperature of objects or in a landscape can be made visible. Warm or even hot spots appear bright in these images and in yellow and red tones. The dark, blue or green areas indicate a lower temperature. With such thermal images, our world can be perceived and explored in a completely different way. Some examples with different photos from our everyday life show how we would see our world with "infrared eyes". The coloring pictures then enable us to explore and interpret warm and cold in our environment.

Background Aha!Boxes
With the Aha!Boxes on the topic of "infrared radiation", children in particular are encouraged to enjoy experimenting and exploring. These research sets are produced in cooperation with the Vienna University Children's Office and Manthan Science Education Material in India. The Aha!Boxes are part of a social initiative and are co-designed and produced by people with a disability.